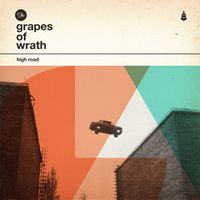 The Grapes of Wrath - High Road   buy
Toronto Star - " in an era where reunions are a dime a dozen, often with inferior or disappointing results — Kevin Kane and brothers Tom and Chris Hooper have actually improved on the original model with the very welcome High Road, their first collaboration in 22 years. " read more...
musicnerd.ca - "Please don't wait another 22 years to make another record, Grapes. This is pure pop heaven." read more...
lifestylermag.com - "When you have recorded as long as we have, having a good hang or pleasant personality is very important and Darryl is not only a good hang but also very good at what he does." read more...
the backstage rider - "The whole band is in agreement that this was the most fun we've had in the studio since our first EP," singer/guitarist Kevin Kane wrote to me back in May after the band had been recording with producer Darryl Neudorf.
"It was definitely the most productive: 12 songs in 13 days! We're also stoked that its the most versatile record we've ever made and is almost like a compilation in the different styles and moods that get covered. As I accompanied Tom and Chris to the airport I think we were all sort of thinking 'did we really just record a new Grapes record?!?'"  read more... 
http://www.waterloochronicle.ca - "Hooper attributes the warm, organic sound of the new album to sound engineer Neudorf.
"Darryl has a great, no bulls–t kind of sound and he really captured our essence in a natural way after all these years," said Hooper. "He's known us since childhood. I was 10 when I first started hanging out with him as we were all friends in Kelowna back in the '70s.
"We were all into punk rock and new wave at the same time, and big Beatles fans. So he knows exactly where we came from and all our influences. We always use The White Album as an example of a record we like, where it kind of goes all over the map with different styles, but when it comes down to it, it's still the Beatles." ......""We did it in two weeks and we were together the whole time, so it was kind of like boot camp," he said with a laugh. "We were living in a barn kind of thing, sleeping upstairs and recording downstairs all day. At night, we'd have a few drinks and listen to playback.
"I remember looking around and thinking: I can't believe we're actually doing this! This is amazing. We're all getting along and having such a good time."
The result is one of the best albums The Grapes of Wrath have ever made, according to those involved.
"I know lots of artists say that about their latest album, but I think there's something really special about this one, as we have such a history together," said Hooper. "We all grew up together, we have inside jokes, we had the same teachers and made home movies together.
"I know it sounds very sentimental, but when you get older and have kids, which I do, things like family and friendships get way more important. So it's a really nice thing that we all did this."  read more...